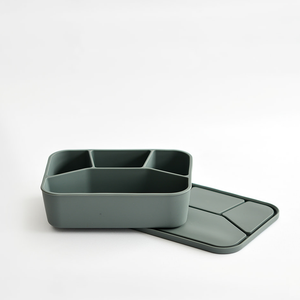 BIG BITE STUDIO'S 4 SECTION SILICONE LUNCH BOX
At Big Bite Studios we proudly present our revolutionary 4-Section Silicone Lunchbox. Prepare to transform your lunchtime experience with this innovative and versatile lunchbox, designed to take your meal organization and enjoyment to new heights.

Crafted with the utmost attention to detail, this lunchbox is made from premium food-grade silicone, ensuring durability, safety, and peace of mind. The BPA-free and non-toxic material guarantees that your food remains fresh, untainted, and free from any harmful chemicals.
The highlight of this lunchbox is its unique 4-section design, offering ample space for a variety of food items. From main courses and sides to fruits, snacks this lunchbox allows you to keep your favourite flavours separate and well-organised, creating a delightful mealtime experience.
Say goodbye to soggy salads or mixed flavours, as the leak-proof lid ensures that your dipping sauces stay secure and contained until you're ready to enjoy them.
This lunchbox is designed for practicality and convenience. The secure and airtight lid seals each section, preventing any spills or leaks during transport. The sturdy and compact design makes it easy to carry in your bag or backpack, allowing you to enjoy a satisfying and mess-free meal wherever you go.
Cleaning this lunchbox is a breeze. The smooth silicone surface is non-stick and easy to wipe clean, and it's also dishwasher safe, making cleanup a hassle-free task.
By choosing the Big Bite Studios 4-Section Silicone Lunchbox, you're not only investing in a functional and versatile lunchbox but also embracing a sustainable lifestyle. Reusable and eco-friendly, this lunchbox helps reduce waste from disposable containers, allowing you to make a positive impact on the environment
CARE INSTRUCTIONS
What I'm made from: Platinum silicone.  Platinum silicone is made from silica with is the same mineral that glass is made from which is why it shares the same heat resistant qualities as glass - but without the shatterbility! 
How to use me: Use me as a replacement for plastic containers and lunch boxes. Perfect for school, work or university for your snacks, lunch or leftovers.
How to keep me clean: I can go in the dishwasher or be hand washed.
How to keep me safe: I'm pretty resilient and can go in the oven or microwave. I can resist heats of up to 200 degrees celsius. I can also go in the freezer.
How to dispose of me: I should forever.  However, if you decide you no longer need me I can be returned to Big Bite Eco, popped in the recycling, taken to a commercial facility or handed down to someone in need.
Our products are made from responsibly sourced and hard wearing eco-friendly materials from around the globe, often utilising waste byproducts from other industries.  
SPECS
Holds 1200ml
Dishwasher & freezer safe (-20 to 200 ℃)
Recyclable
Compact 
Unbreakable
Leakproof
Durable
Safe & Eco-Friendly
LTGB & FDA certification
Free of BPA, melamine, heavy metals and other harmful substances