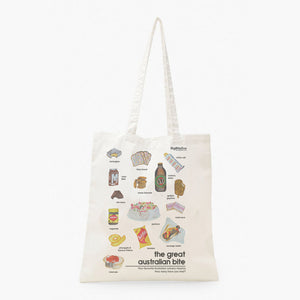 100% Cotton Eco Friendly Shopping tote
High quality artistic prints from original artworks by Seonaidh Murphy
Our tote bag is made from lightweight cotton and is perfect for grabbing a lil shopping on the run.
 What I'm made from: 100% natural cotton
How to use me: Use me as a replacement for single use plastic bags at the supermarket or farmers market. Then use me to store your produce in the refridgerator, on the bench or in the cupboard depending on it's requirements.
How to keep me clean: Cold, gentle hand or machine wash.
How to keep me safe: Don't forget about me. If you leave me in the back of the fridge or cupboard with produce in me for too long I may go mouldy.
How to dispose of me: I should last for years if looked after. At the end of my life span I can be returned to Big Bite Eco, used as a rag or popped into your compost to naturally deteriorate.