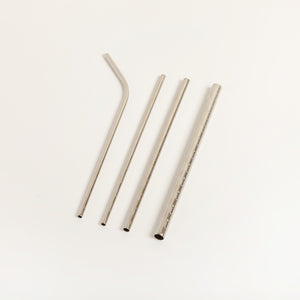 1 x stainless steel boba straw 
1 x stainless steel bent straw 
1 x stainless steel straw 
1 x straw cleaner
Set of amazing reusable, stainless steel drinking straws and straw cleaner.  The perfect alternative to single use plastic alternatives.  They come with a straw cleaner for cleaning and most importantly, they are dishwasher safe and heat-resistant.
They can withstand years or more of constant use and are dishwasher safe, microwave and freezer safe.
CARE INSTRUCTIONS
What I'm made from: Stainless steel
How to use me: Use me as a replacement for plastic straws. Perfect for hot or cold drinks.
How to keep me clean: We are easy to sanitise and keep clean. I can go in the dishwasher but will last longer if you hand wash me. You can also use a straw cleaner to keep me clean.
How to keep me safe: I'm pretty resilient. Please be careful when using me as I may hurt small mouths.
How to dispose of me: I should last for years if looked after. At the end of my life span I can be returned to Big Bite Eco, recycled or taken to a commercial compost facility.
SPECS
Non-stick

Stainless Steel

Dishwasher safe 

Freezer safe

Oven safe 

Reusable (will not warp or crack)

BPA free

Foodsafe
Easy to clean
Warm hand wash or dishwasher safe.
Clean and dry thoroughly after each use.