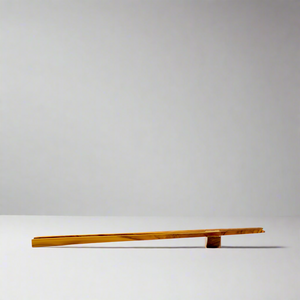 Introducing our exquisitely handcrafted Wooden chopstick sets, a perfect fusion of beauty, functionality, and natural charm. This artisanal set is designed to elevate your culinary experience, adding a touch of warmth and elegance to every bowl of soup.
Handcrafted from the finest quality teak wood, each set is a testament to the skill and craftsmanship of our artisans. The smooth, polished surface showcases the rich and distinct grain patterns, adding a unique and organic touch to your dining table.
Our Wooden Chopsticks are not just a practical utensil; they are also an eco-friendly choice. Crafted from sustainably sourced wood, it embodies our commitment to both quality and sustainability. By choosing this set, you are making a conscious decision to embrace nature and reduce your environmental impact.
Easy to clean and maintain, simply hand wash the spoon with mild soap and warm water, then dry it thoroughly. Treat with occasional oiling to preserve its natural beauty and longevity.
Whether you're a professional chef or a passionate home cook, our Wooden Chopsticks are an essential tool for your kitchen. Their timeless appeal and durability make it a perfect gift for food enthusiasts and those who appreciate the beauty of natural materials.
Elevate your dining experience and add a touch of rustic elegance to your table with our Wooden Chopsticks. Let the natural beauty and functionality of these handcrafted utensils enhance your culinary creations, making every spoonful a delightful journey.
A great addition to any platter, feast or daily meal around the dinner table or on the run. 
CARE INSTRUCTIONS

What I'm made from: A super lightweight teak wood
How to use me: Use me as a replacement for plastic cutlery when you're out and about or at home. Perfect for school or work, snacks and lunch.
How to keep me clean: Hand wash only 
How to keep me safe: I'm pretty resilient but can't go in the dishwasher, oven or microwave. Please be gentle as I may dent if dropped.
How to dispose of me: I should last a lifetime if looked after. 
SPECS
Set of two + stand
Hand made
Made from Sustainable rubber wood
Long lasting 
Compact size 
Durable
Safe & Eco-Friendly
LFGB & FDA certification
Free of BPA, melamine, heavy metals and other harmful substances