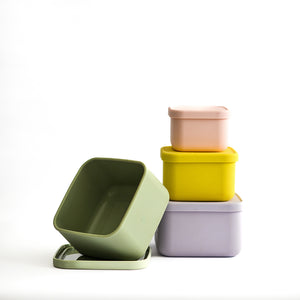 PASTEL SQUARE SILICONE LUNCH BOXES| UNBREAKABLE & LEAK PROOF 
We know it can be hard to find the perfect lunch box that is eco-friendly, durable and well designed.  Luckily we've got you covered with our NEW unbreakable leak proof silicone lunchbox!  It can hold your favourite salad or leftovers or some snacks or your breakkie.  Perfect for when you or your kids are one the go- for school, work or uni. 

Made from sustainably sourced platinum silicone this beautiful lil box is basically indestructible.  Which means when you drop it (even from the greatest of heights) it'll bounce, not break.  Plus it's microwave safe which means you're leftovers can get reheated without the worry of warping, cracking or harmful chemicals leaching into your food.  
And because it's made from zero-waste silicone it means it's also freezer safe and dishwasher safe.  
Amazing for lunches on the go or food prepping.  Did we mention it's leakproof and indestructible?
CARE INSTRUCTIONS
What I'm made from: Platinum silicone.  Platinum silicone is made from silica with is the same mineral that glass is made from which is why it shares the same heat resistant qualities as glass - but without the shatterbility! 
How to use me: Use me as a replacement for plastic containers and lunch boxes. Perfect for school, work or university for your snacks, lunch or leftovers.
How to keep me clean: I can go in the dishwasher or be hand washed.
How to keep me safe: I'm pretty resilient and can go in the oven or microwave. I can resist heats of up to 200 degrees celsius. I can also go in the freezer.
How to dispose of me: I should forever.  However, if you decide you no longer need me I can be returned to Big Bite Eco, popped in the recycling, taken to a commercial facility or handed down to someone in need.
Our products are made from responsibly sourced and hard wearing eco-friendly materials from around the globe, often utilising waste byproducts from other industries.  
SPECS
3 sizes - small (500ml), medium (1000ml), large (1500ml)

Dishwasher & freezer safe (-20 to 200 ℃)
Recyclable
Compact 
Unbreakable
Leakproof
Durable
Safe & Eco-Friendly
LTGB & FDA certification
Free of BPA, melamine, heavy metals and other harmful substances