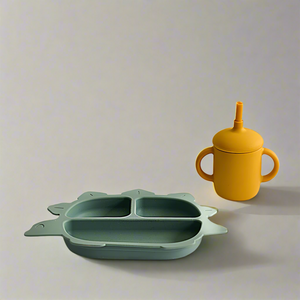 DINOSAUR SILICONE DIVIDED PLATE  
Our zero-waste toddler's dino divided plate has just made your meal times easier!  They are the perfect size for a high chair tray.  Great for starting baby's off on solids and into more solid toddler foods but without all the foods touching.  And the best thing is they're pretty much indestructible so they'll last you a lifetime.  A range of super cute colours that make the perfect gift for any eco-conscious mum or mum to be!
Non-stick
Food grade silicone
Dishwasher safe 
Freezer safe
Microwave safe
Reusable (will not warp or crack)
BPA free
Foodsafe
Easy to clean
Plus, they can be used over and over and then are easily sanitised by washing in the dishwasher, boiling in hot water or popping in the microwave.  They will withstand years of constant use (and tantrums) and are dishwasher safe, microwave and freezer safe.
CARE INSTRUCTIONS
What I'm made from: Platinum silicone. Silicone is made from the silica found in sand which makes it a resilient, long lasting alternative to plastic that has similar properties to glass.
How to use me: Use me to serve up the yummiest dishes for your little people.  From infant to toddler.  The divisions will keep food separate and the suction cup keep it put for easier meal times.  
How to keep me clean: I can go in the dishwasher and can be sanitised in the microwave or boiling water.
How to keep me safe: I'm pretty resilient and can go in the dishwasher, microwave & freezer.
How to dispose of me: I should last years if looked after. At the end of my life span I can be returned to Big Bite Eco, put into your recycling bin (check with your local council first) or taken to a commercial recycling facility.  
SPECS
Non-stick

Food grade silicone

Dishwasher safe 

Freezer safe

Microwave safe

Reusable (will not warp or crack)

BPA free

Foodsafe
Easy to clean